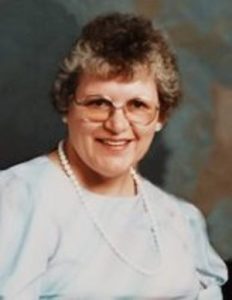 Dolores Ann Henry, age 85, of Sturgis, passed away at Bronson Methodist Hospital in Kalamazoo on Tuesday, October 26, 2021. She was born October 6, 1936 in East Troy, Pennsylvania the daughter of Elmer and Rena (Joraleman) Vinson. Dolores lived in Milan, Michigan from 1968 to 2017, where she and her husband, Jim, raised their family. In 2017, she moved to Sturgis to be close to her daughter, Irene, and family.
Dolores married James E. Henry on June 8, 1956 in Troy, PA. He preceded her in death in 2015. After the kids were grown, she worked as a machine operator for Mather Automotive in Milan. Dolores enjoyed laughing, doing crafts, camping, cooking, and spending time with her family and friends. She enjoyed traveling and took many day trips with friends.
Dolores is survived by her children, Irene (David) Taylor of Sturgis, Brad (Alena) Henry of Lansing, and son-in-law, Bill Sprinkles of Rockwood, MI; grandchildren and great-grandchildren: Jason (Mandi) Taylor with Jacob, Jamie, and Cora; Christopher (Brittney) Taylor with Addison and James; Andy Taylor, Courtney (Graham) Nichols with Lydia; Nicolas (Nicole) Mahrle with Mikey; Kayla Henry, Isaac Henry, Zackery Sprinkles and Katelynn Sprinkles. She is also survived by aunts, Irene Miles of New York, Marjorie Oldroyd of Pennsylvania, and Alice Joraleman of Pennsylvania; and siblings, NedDale Vinson of Pennsylvania, Ethel (Bob) Anderson of Tennessee, Linda (Kevin) Polovick of Pennsylvania, Garth (Carol) Vinson of Kentucky, sister-in-law, Wanda Alexander, and brother-in-law, Merle Merritt.
In addition to her husband, she was preceded in death by children, Randy Henry, Scott Henry, and Wendy Sprinkles; siblings Audrey Puglisi, Bonnie Merritt, Dewayne Vinson, Delos Vinson, Jimmy Vinson and sisters-in-law, Marilyn Vinson and Shirley Vinson.
A Memorial Service will be held on Saturday, November 27, 2021, at 11:00 a.m., at the Staffan-Mitchell Funeral Home in Chelsea, where the family will receive friends from 10:00 a.m. until the time of service.
Memorial contributions may be made to Boys Town or Shriners Hospitals for Children.