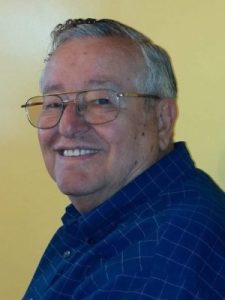 Edward L. Rosen, age 87, of Three Rivers, passed away Sunday, November 21, 2021 at Glenn Arbor Hospice Residence in Battle Creek.
He was born May 24, 1934 in Three Rivers, the son of Homer and Lillian (Mains) Rosen.
He served his country in the Army, then later worked for 35 years as the plant manager at Skamper Corp. in Bristol, Ind.
On July 1, 1961 he married Grace Erdos.
Ed enjoyed camping, fishing, traveling and motorcycling. However, more than anything Ed enjoyed family whether it was time spent making memories or a quick stop by the house to visit him. His face always lit up. Overall his kids, grandkids and great-grandkids were his greatest treasure.
Remaining to cherish his memory are his wife, Grace; two sons, Franklin and Rich; daughter, Angela; grandchildren and great-grandchildren.
Visitation will be held Tuesday, November 30, 2021 from 4:00 to 6:00 p.m. at Hohner Funeral Home, 1004 Arnold St., Three Rivers, followed by a memorial service at 6:00 p.m. at the funeral home. He will be laid to rest in Flowerfield Cemetery.
Donations in Edward's memory may be directed to Centrica Care Navigators, 7100 Stadium Drive, Kalamazoo, MI 49009. Envelopes are available at Hohner Funeral Home.