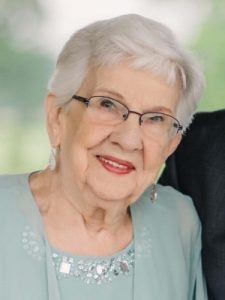 Georgene Louise Homer, age 89, of Three Rivers, passed away on Saturday, November 27, 2021, at Bowman Place Assisted Living Community where she resided for the past two years. She was born in Chicago on October 9, 1932, daughter of George and Louise (Cihlar) Bullock.
Georgene graduated from high school in Chicago in 1950 and began working for People's Gas Light and Coke Company in downtown Chicago until the birth of her first child Kim in 1960. She married the love of her life, Dale Homer on January 6, 1955. Georgene and Dale had one daughter (Kim), and two sons (Bret and Paul). Georgene and Dale lived in Evergreen Park, Illinois until 1975 when they relocated their family to their beloved lake house near Three Rivers. They were avid boaters, spending many hours on the waters of Lake Michigan and at their home on Clear Lake. Once all the children were in school, Georgene began working for Michigan Power (AEP) retiring in 1996.
In her younger years, Georgene and Dale enjoyed hosting parties for friends and family. After retirement, Georgene enjoyed traveling with a small group of close friends. They traveled to places such as Hawaii, Alaska, British Columbia, and Europe. She was an avid reader and a member of the reading club at the local library. She was also an aspiring knitter and she and her close knitting friends would often knit clothing for local charities and people in need. In addition to her reading and knitting hobbies, she was also very involved with her local Christian Science church where she managed the books for many years.
She leaves to cherish her loving memory three children, Kim (Jeff) Lucas of Three Rivers; Bret (Melanie) Homer of Commerce City, CO; and Paul (Chrissie) Homer of Columbus, IN. Grandchildren Josh (Deanna) and Ryan (Ariel) Lucas and Katey, Drew, Christine, and Katherine Homer; great-grandchildren Gavin, Miley, Eva, and Sadie Lucas; and brother-in-law Dean (Rosemary) Homer.
She was preceded in death by her parents, her husband Dale, sister-in-law Nancy, and daughter-in-law Jane.
In accordance with her wishes, cremation will be conducted. Visitation will be held on Friday, December 17, 2021, from 1:00 to 2:00 p.m. at Hohner Funeral Home, 1004 Arnold Street, Three Rivers. A memorial service will follow at 2:00 p.m.
Donations in Georgene's memory may be directed to the Salvation Army or to the St. Joseph County Animal Shelter. Envelopes are available at Hohner Funeral Home.