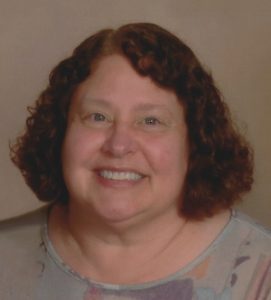 Jenny Doreen Curtis, age 59, of Marcellus, passed away peacefully at Borgess Hospital after battling Covid pneumonia. She went home to her Savior just after 11 p.m. on Friday, October 22, 2021.
Jenny was born to Floyd and Marnetta Eichorn on November 29, 1961. The youngest of five siblings, she grew up on farms in the Three Rivers area. Jenny graduated near the top of her class from Vicksburg High School in 1980. She married William (Bill) Curtis on September 5, 1981. Bill and Jenny celebrated their 40th anniversary last month. They made a home in Marcellus, and added their children Luke and Sally to their family in 1984 and 1986. Jenny had many jobs throughout her life including switchboard operator for a phone company, waitress, selling Tupperware and other various items, secretary, township treasurer, and bookkeeper for K&S Vending and for B&M Service (her husband and Matt Shingledecker's business). Most recently she was employed at Power Engineering & Supply/Rhino Refrigeration. Jenny put her skills with numbers and accounting to use for her family in budgeting every penny and stretching every dollar to ensure her family had everything they needed (including a Christian education for her children) plus some. She volunteered in various capacities at her children's school and their family's churches throughout the years. Her most cherished position was taking care of her husband and being a stay-at-home mom. She also was an advocate over the years for family members who were battling health issues and served others tirelessly. When her husband could no longer work due to his cancer diagnosis, she went back to work and dedicated herself to researching and applying holistic measures to keep her husband healthy and well. She spent countless hours keeping track meticulously of all of his health care and medications to ensure everything was taken care of and in order. Jenny was incredibly proud of her three grandchildren and they were very precious to her. She never stopped being a wonderful mother; helping her adult children any time they needed her.
Jenny was a patriot, a God-fearing woman, and an incredibly loving individual. She was a perfect mix of sweet and spitfire and was fiercely protective of those she loved. Jenny loved the simple things in life: spending time with her loved ones, hugs, campfires, ice cream, a wholesome show, playing cards, lakes/beaches, bright colors (especially orange), butterflies, her knick knacks that made her home a haven to her, and fellowshipping with her church family. She was a very giving, kind, and loving person who was known for her sparkling blue eyes, beautiful smile, and infectious laugh.
Jenny was preceded in death by her father Floyd Eichorn, sister Judy Rochon, brother Joseph Eichorn, niece Erin (Eichorn) Shafer, and father-in-law Wilfred Curtis. She is survived by husband Bill Curtis (Marcellus), son Luke Curtis (Three Rivers), daughter Sally Jones (Marcellus), grandchildren Jenna, Jayden, and Jonathan Jones (Marcellus), her mother Marnetta Eichorn (Three Rivers), sister June Evans (Three Rivers), brother Jay Eichorn (m. Evelyn of Delaplane, VA), mother-in-law Doris Curtis (Marcellus), sister-in-law Julie Bouma (m. Tom Bouma of Schoolcraft), sister-in-law Toni Schiedel (m. Joe of Marcellus), brother-in-law Don Curtis (m. Tammy of Marcellus), twelve nieces and nephews, ten great nieces and nephews, and many other cherished family and dear friends.
The family will receive friends on Saturday, November 20, 2021 from 10:00 a.m. until noon at First Baptist Church of Newberg (Poes Corners), 13021 Born St., Jones. A memorial service will follow at noon.
Arrangements by Hohner Funeral Home.