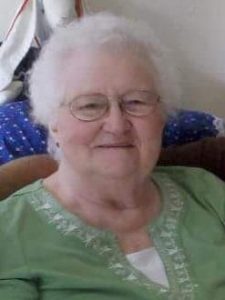 Margaret Beatrice Cowsert, age 84, of Colon, peacefully lost her battle with dementia on Friday, November 5, 2021 at Edgewood Nursing Home, Three Rivers, surrounded by her family.
Ms. Cowsert was born July 25, 1937 to William Dudley Vaughn and Lena Beatrice Eldridge of Greenwood, MS. She was a member of Colon Baptist Church. She also enjoyed cooking, gardening, fishing and spending time with all her grandchildren. Ms. Cowsert was preceded in death by her parents, and two brothers, Claude F. Vaughn, and Herbert L. Vaughn.
She is survived by daughters and sons, Deanna Henderson (Mark) of Three Rivers, and their five children, and Diane Trosper of Heiskell, Tennessee and her four children; William Cowsert of South Carolina and his son, David Cowsert of St. Joseph, Michigan and Steve Cowsert of Pennsylvania and his two children; sisters, Peggy Higginbotham of Macon, Mississippi, Patsy Witt of Elkhart, Indiana, Deborah Phillips of Coila, Mississippi, and Kathy Bowlin of Greenwood, Mississippi; brothers, William (Pete) Vaughn (Phyllis) of Bruce, Mississippi, Bobby Vaughn (Carolyn) of New Paris, Indiana, Tommy Vaughn (Diane) of Ekhart, Indiana; and many nieces and nephews.
Graveside services will be held at a later date in DeKalb, Mississippi.
In lieu of flowers, please make a donation to the charity of your choice.
Arrangements by Hohner Funeral Home.