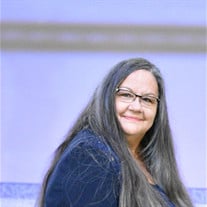 Donna Marie White, age 62, of Sturgis, passed away Tuesday, December 14th, 2021 at Three Rivers Health following a cardiac arrest due to COVID-19 Pneumonia. Donna was born in Pontiac, MI on March 20th, 1959. She was adopted by Rudolph and Kathleen (Curtis) Minchella.
Donna is survived by her husband Edwin Robert White; her two children Krystina (Noriega) Morrison married to Tyler Morrison and Alexander Noriega married to Codi Noriega; her four grandchildren, Grace Morrison, Aletheia Morrison, Meira Morrison, and Shiloh Morrison; and siblings Barry Minchella and Gina (Minchella) Timpani. She was a faithful wife to Edwin, sacrificing her time and body in caring for him and making him absolutely comfortable at home. She was a faithful, patient, and loving mother to Krystina and Alexander. They were deeply loved and could always count on her to be there for them, teaching them to love God first and foremost. Donna absolutely loved her grandchildren, taking every opportunity to go and visit them. She enjoyed her daily video calls when she wasn't able to. She encouraged her grandkids to read their Bibles and to hide His Word in their hearts. Donna had an immense love of water. She would take any opportunity to go for a swim in a pool, river, or lake. Her wishes were to be cremated and her ashes sprinkled in the oceans of Hawaii. She was a diehard supporter of Michigan and all its sports, wanting them to cream the competition and go on to victory. Her great appreciation for cold weather, and love for the winter months where snow covered the ground showed in her choice of residency. Above all, Donna White was a firm believer in Jesus Christ. Her faith in God was the driving force in her life regarding her heart for others, her kindness and warmhearted nature, and the source of her endless generosity. She would do anything she could for friend and family alike, wanting to bless those around her with gifts and blessings that very much needed. Donna was a member of Fish Lake Bible Church in Sturgis, and faithfully attended until the health of her husband led her to be a full time caregiver, causing her to be homebound for the last two years. In all of these things, her faith in God was clearly seen through her joy, her generous nature, her kindness and hospitality, and her bountiful love. She is now, thankfully, in the presence of her God, at peace, and at rest.
The family is being cared for by the Avink, McCowen & Secord Funeral Home and Cremation Society, 409 South Main Street, Vicksburg, MI 49097 (269) 649-1697.