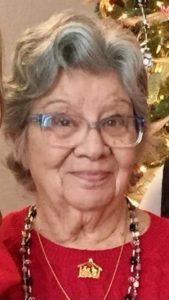 Ruth Ida (Schwab) Walter, age 85, passed away on Thursday, December 9, 2021.
Ruth was born Oct. 7, 1936 in Kansas City, KS, the daughter of Ernest Schwab and Ruth Johnson. She grew up in Moorepark, raised by her grandparents, Willie and Ida Schoppe.
She married William A. Walter on Mar. 14, 1954.
She graduated from Three Rivers High School.
She worked at Don's Furniture City, Wolf's Floor Coverings and as a waitress at Russ' Restaurant in Portage.
She was a member of St. Peters Evangelical Lutheran Church, where she served on many committees. For many years she would take on the responsibility to help organize and make the food for the bloodmobile, specializing in her delicious ham & egg salad, as well as working on many years of funeral luncheons.
Ruth was also an artist, specifically into oil and watercolor painting. She loved sharing her work with family and friends to enjoy. Bill & her also did many woodworking projects where he would do the wood part and she would do the painting/decorating part.
Ruth's true nature was to always be teaching and giving to others. You never left her house without her sending something home. She loved to make cookies with that "Ruthie twist," never exactly what a recipe called for! Her mission was always to have us kids and her precious grandkids cooking and baking alongside her.
She and Bill had a love for travel and visited many states, friends and relatives.
Mom's unique quality was making up new pronunciations for words and names. She kept us pretty much in stitches with the things she would come up with. She came up with creative words to replace everyday words … like TT, that we still all use today.
Remaining to cherish her memory are daughters Janice Ashley and Lucinda (David) Walter; son William Scott (Diana) Walter; grandchildren Amber (Trent) Walter-Babcock, Karla (Jonathan) Booko, M. Alex Ashley, Katherine (Jayson) Gesmundo, Paula Boyer and Pamela (Steven) Riggs; great-grandchildren Andrew, Tommy, Zayden, Julia, Kassandra, John, Taven, Lincoln, Jack, Alexa, Kyle, Leo, Zoey and Asher; sister, Lou Cafourek; brothers, Everett Lee (Evalena) Hollibaugh, Kris Edge and Thomas (Karen) Schwab; brothers-in-law, James (Delores) Walter and James Smith; and many beloved nieces, nephews and cousins.
She was preceded in death by her parents, husband Bill, sisters Debora Smith and Emily Couch; sister-in-law Roberta Walter; cousins Hilma (Joe) Gherna and Bill (Lois) Schoppe.
Private family graveside services will be held, and a memorial service planned for the spring.
Donations in Ruth's memory may be directed to St. Peters Evangelical Lutheran Church or Rose Arbor Hospice. Envelopes are available at Hohner Funeral Home in care of her arrangements.