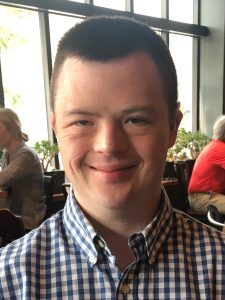 James Edward Foley passed away at age 33 on Sunday, January 9, 2022. He was born with Down Syndrome and was a joy-filled young man. His charisma meant no one was a stranger.
He loved Jesus, people and parties. He was always a party waiting to happen. He participated in St. Joseph County Special Olympics for many years. But his favorite thing to do was to crank up his CDs in the car and sing his heart out or dance all night at a wedding reception. He wanted to be a professional singer; he's singing with Jesus now. He also loved watching football with his dad and brother and going out to eat or to get an iced coffee (or a Mountain Dew, which his mom strictly forbade).
James leaves behind two parents, Shaun and Melissa, who loved him more than words can express. His sister and brother-in-law Stephen and Sara Wolters and nephew Shaun. His brother and sister-in-law Nathan and Emma Foley and his niece Skylar. His maternal grandparents Robert and Sara Knepple and his paternal grandmother Olga Cairns. They will miss his kisses, hugs and phone calls very much. He also leaves behind many aunts, uncles and cousins who loved him dearly.
Visitation will be held Friday, January 14, 2022 at 10:00 a.m. at Howardsville Gospel Chapel, 53441 Bent Rd., Marcellus. A funeral service will follow at 11:00 a.m. at Howardsville Gospel Chapel with Rev. Sheldon Combs officiating.
Donations in James' memory may be directed to Howardsville Gospel Chapel.
Arrangements by Hohner Funeral Home.