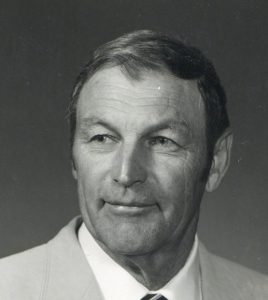 Delbert (Del) Charles Jr. of Three Rivers, passed away at Birch Meadows Senior Care Facility on Wednesday, February 23, 2022 at the age of 97 years.  Del was born on June 22, 1924 in Schoolcraft, the son of Delbert and Leitha Charles.
Del is survived by his children, Rebecca (James) DeLaBarre and Bradley (Jodie) Charles; grandchildren, Matthew (Allison) Charles, Andrew (Kristina) Charles, Trevor (Danielle) DeLaBarre, and Tyler (Bianca) DeLaBarre; and seven great-grandchildren; and special friend, Jean Richardson.
Del was preceded in his passing by his parents; wife, Phyllis; brother, Monte; and father and mother- in-law, Marten and Lillian Kersten.
Del enjoyed family time and with four grandsons, attended many sporting events throughout their school years where he proudly cheered them on.
Immediately after graduating high school Del joined the army and fought in WWII where he received 2 Purple Hearts and a Bronze Star.
He retired from UpJohn in 1985 as a Supervisor of Security.
The family wishes to express their heartfelt gratitude to the staff of Birch Meadows for their excellent care of our father and grandfather during these past 3 years of his illness, along with hospice care from Centrica of Southwest Michigan.
A celebration of his life will be held at a later date.  In lieu of flowers, memorials may be made in Del's name to Birch Meadows Senior Care, 710 North Douglas, Three Rivers, MI 49093 or Schoolcraft American Legion Post 475, 425 East Clay Street, Schoolcraft, MI 49087.
Please visit Del's webpage at www.amsfuneralhomes.com where you can read his obituary and sign his guestbook. Those who wish may make contributions to the Centrica Care Navigators.
The family is being assisted by the Avink, McCowen & Secord Funeral Home and Cremation Society, 409 S. Main, Vicksburg, MI (269-649-1697).