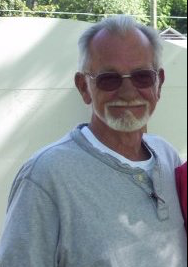 Gary M. Town, Sr., age 81, of White Pigeon, passed away on Monday, February 21, 2022. Gary was born on February 18, 1941, in Grand Rapids, the youngest child and only son to Mervin and Vivian (Bennett) Town.
Gary was employed as a driver for many years with Mercer Transport in White Pigeon, as well as in more recent years for Morris Excavating, White Pigeon. Prior to being a driver, he worked in a variety of professions, including sales, restaurant ownership and as a letterpress-man in the printing industry for area companies including Weyerhaeuser Company in Middlebury, and Sturgis Carton in Sturgis.
He served his community as a lifetime member of the Constantine Fire Department, as well as a member of the White Pigeon Fire Department. He was a S.A.L. member with American Legion Post 223, Constantine; and a member of the Constantine Lions' Club.
Gary had a passion for the stockcar racing circuit in West Michigan as well as a love for NASCAR. While he never dabbled much behind the wheel, he enjoyed being part of many crews for drivers at Mottville Speedway and Kalamazoo Speedway, where he rarely missed a Super Shoe Weekend. There was little Gary enjoyed more than spending a Sunday afternoon watching NASCAR with his family or friends or going to Michigan Speedway with his favorite racing crew.
His survivors are his children Christine (Bill) Howell, White Pigeon; Carri (Dick) Wellington, White Pigeon; Gary Town Jr., Constantine; Corrina (Christopher) Bowers, Constantine; Ken (Deb) Weinberg, Apache Junction, AZ; along with the mothers of his children Connie Sager, Constantine and Mickie Town, Constantine. He is also survived by his grandchildren Tabitha (Eric) Felthoff, Tyler Mercer, Michael (Teagen) Howell, Thomas (Angelica) Law, Nick (Daniel) Law, Anna (Byron) Wellington, Matthew (Brittany) Bowers, Emily Bowers, Devon DiGiacomo, Steven Frankson, Kenny Shane Tubicsak, and Cole Weinberg; several great grandchildren, many nieces and nephews, his brother-in-law Peter Rienstra, and his dear and special friends Jeff and Renee Mercer.
He was preceded in death by his parents; sister Gloria Brigstock and her husband Bob; sister Natalie "Nan" DeBoer and her husband Jim; his sister Shirley Rienstra and his son Christopher Weinberg. Gary was also pre-deceased by his companion of many years, Marjorie C. Miller and beloved pet chow chow, Honey.
Gary's family would like to extend their gratitude to Cheryl, Beth and Ryan at Kindred Hospice, Portage; Cassie at Home Joy of Mid-Michigan, Three Rivers, and to Sue with Area Wide Transportation, Schoolcraft, for the care they provided Gary and for their genuine kindness as he entered the finality of his life.
Cremation has taken place. Relatives and friends will be received Saturday, February 26 from 2 to 4 PM at Eley Funeral Home in Constantine. A potluck reception will follow at the American Legion Post 223, located at 65079 US-131 Bus, Constantine. Interment of ashes will take place at the Hilton Cemetery in Casnovia, MI at a date yet to be determined.
His survivors ask that any memorial contributions be directed to Kindred Hospice – Portage, 1911 W. Centre Ave. #1, Portage, MI 49024.
Visit www.eleyfuneralhomes.com to sign Gary's guest book or leave a message for the family.