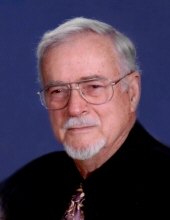 Jimmie Dale Burke, 91, of Mendon, went to be with the Lord on Tuesday, February 22, 2022 at Three Rivers Health.
A funeral service will be held on Sunday, February 27, 2022 at 1:00 PM at Factoryville Bible Church, 33650 Factoryville Rd, Athens, MI 49011, with military honors and Pastor Fred Goebert officiating.  Visitation will be held on Saturday, February 26, 2022 from 4:00 to 7:00 PM at Factoryville Bible Church.  Private interment will be at Mendon Cemetery.  For friends and family not able to be physically present for the funeral service, it will be live-steamed via the Internet at www.lighthousefuneral.com.
Jim was born October 4, 1930 in Myra, Kentucky to Arnold and Arizona (Osborne) Burke.  He grew up in Kentucky and graduated from Dorton High School in 1948.  On July 4, 1957, he married the former Phyllis Schneider in Mendon.  She survives.  Jim served in the U.S. Air Force from 1951-1954 during the Korean War.  He was later employed at Lear Siegler in Mendon, and then worked for 31 years as a tool and die welder for GM in Portage.  He was politically active most of his life, having an interest in conservative politics, even running as a congressional candidate on the Republican ticket in the old Michigan 4th District. Jim was a member of Factoryville Bible Church.  One of his life's greatest joys was to be able to serve on the mission field with his wife, traveling to New Guinea, Mexico and Bolivia, and serving as Wycliffe Bible Translator associate missionaries.  He also liked woodworking, beekeeping, gardening and tending his fruit trees.
In addition to his wife of nearly 65 years, Phyllis, Jim is survived by his children, Geoffrey (Sherrie) Burke of Chesapeake, VA, Jonathan (Kathleen) Burke of South Bend, Thomas Burke of Colon, Brian (Tammy) Burke of Grand Rapids, Daniel (Debbie) Burke of Greer, SC, Matthew (Joy) Burke of Phenix City, AL and Cayla (Tarek) Ashkar of Carmel, IN; 14 grandchildren, six great-grandchildren; a brother, David (Debbie) Burke of Midway, OH; and many nieces, nephews and cousins.
He was preceded in death by his parents and three brothers.
Memorial donations are suggested to Factoryville Christian School, 33650 Factoryville Rd, Athens, MI 49011.