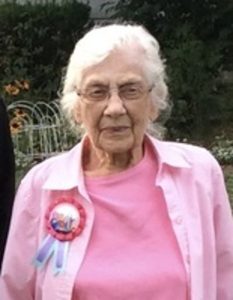 Naomi E. Jackson, age 101, of Colon, passed away Saturday, February12. 2022 at Birch Meadows AFC in Three Rivers.
Naomi was born July 30, 1920 in Kalamazoo, a daughter to the late Benjamin and Princess J. (Lewis) McClish.
Naomi had lived in Colon all of her life and graduated from Colon High School with the Class of 1938.
On September 18, 1940 she married Louis R. Jackson in Bryan, OH and he preceded her in death July 17, 1989.
Naomi had worked at Lamb Knit and also at the Colmer Company, both in Colon, and was a member of the Colon Baptist Church, life member of the Colon Historical Society, and a member of the Stitch and Sew at the Colon library.
She is survived by a son Randall (Sandi) Jackson of Colon and daughter Phyllis (Elwood) Rink of White Pigeon, six grandchildren, seven great grandchildren, five great great grandchildren, two sisters; Joyce Taylor of Bronson and Julia Lucas of Shelbyville, IL and several nieces and nephews.
Besides her husband, she was preceded in death by a son Dennis A. Jackson, sister Mayne Smith, and two brothers; Arnold and Robert McClish.
The family willl receive relatives and friends on Wednesday, February 16, 2022 at the Colon Baptist Church from 10:00 to 11:00 A.M. with funeral services starting at 11:00 A.M. with John Kroeger officiating. A graveside comital service will follow at Matteson Township Cemetery. If desired the family suggest memorials be made in memory of Naomi to either the Colon Historical Society or the Colon Baptist Church. Envelopes will be available at the Church or the Schipper Funeral Home LTD. Condolences may be left for the family at Schipperfuneralhome.com.