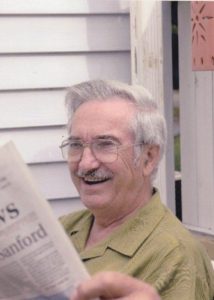 William A. Wickey, age 92, of Centreville, passed away Sunday, March 6, 2022, at St. David's of Round Rock Medical Center in Round Rock, Texas.
William was born a son to the late August and Pauline (Miller) Wickey on April 19, 929 in LaGrange, Indiana.
On January 1, 1953, William married Florence Miller at Locust Grove Mennonite Church in Burr Oak. They would go on to enjoy 69 years of marriage.
William owned and operated his contracting company "Bill the Builder" and built homes for 40 years. When he wasn't building houses, Bill Pastored at South Colon Mennonite Church and Maple River Mennonite Church in Brutus, Michigan. William was known best for being a loving father, and a skilled carpenter. William was adventurous and very generous with his time.
William is survived by his wife Florence Wickey of Centreville, children: Nathan (Billi) Wickey of Indian River, Faith Wickey of Centreville, and Pauline Wickey of Seattle, Washington, a granddaughter Keeli Veltkamp, 3 brothers: Ervin, Wickey of Burr Oak, Edwin Wickey of Burr Oak, and Joe Wickey of Geneva, Indiana, and many nieces and nephews.
Besides his parents August and Pauline, William was preceded in death by his siblings: Chris Wickey, Mary Jane Eichorn, Barbara Hochstetler, John Wickey, and Paul Wayne Wickey.
The Wickey family will receive friends and relatives from 5 to 8 PM on Friday, March 18, 2022, at the Locust Grove Mennonite Church:  29525 Findley Rd, Burr Oak, MI 49030. A funeral service will be held Saturday, March 19, 2022, at 11:00 AM also at Locust Grove Mennonite Church, with Pastor Jim Gerber officiating. Interment will follow at Locust Grove Cemetery. The family asks that in lieu of flowers memorials be made to St. Jude's Children's Hospital. Envelopes will be available at church. Memories and condolences may be left for the family online at Schipperfuneralhome.com.