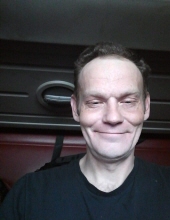 Henry Lee Smith Jr., age 39, of Sturgis, passed away Monday, March 14, 2022 at his home.
He was born April 29, 1982 in Sturgis, a son to the late Henry Lee and Joyce (O'Brien) Smith Sr.
Henry had been a resident of Sturgis most of his life and had been employed as a truck driver for Bill Cary out of Bronson.
He enjoyed watching cartoons, fishing, playing games, NASCAR, and cutting wood with his brother Kenneth.
Surviving are a half-brother: Kenneth (Barb Bender) Barrett of Sturgis, and half-sister: Dawn Woodruff of Sturgis; his ex-wife: Jennifer Smith of Sturgis; and several nieces, nephews, and cousins.
He was preceded in death by his parents, brothers: Morrell Barrett, Paul Barrett Sr., and Daniel Black and a sister: Cindy Fall.
A graveside service will be held at 1:00 P.M., Monday, March 21, 2022 at Sturgis Memorial Gardens Cemetery. Memorial donations may be directed to the Hackman Family Funeral Homes who have been entrusted with the arrangements.