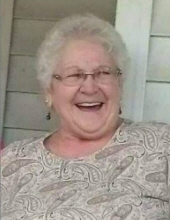 Lydia S. VandenBosch, age 81, of LaGrange, died at her home on Saturday, March 5, 2022.
Mrs. VandenBosch was born on June 26, 1940, in Hopkins, MI to Raymond I. and Louetta E. (Baker) Kinney.
Living for many years in Otsego, she worked at the Allegan General Hospital in Allegan. In 1993, she moved from Otsego to LaGrange, and worked for Howe School in Howe, and at the Sturgis Wal-Mart. She was a member of the former Ontario Church in Howe. Lydia loved her dogs and Mickey Mouse.
On October 1, 1960, in Allegan, she married Alvin P. VandenBosch; he preceded her in death in November 1987.
Surviving is a daughter, Cynthia Lawrence of Michigan; her three sons, Alan (Fay) VandenBosch of Sturgis, James VandenBosch of Holland, and Brian VandenBosch of Otsego; a granddaughter she raised, Crystal (Kris) Levitz of LaGrange; several grandchildren including Alexis VandenBosch, Alan Paul VandenBosch, Jason Bickel, Chole VandenBosch, Paul VandenBosch, Rick Lawerence; several great-grandchildren, including, Isabella VandenBosch, Kristopher A. Levitz, and Kaitlyn Levitz; a brother, Raymond I. Kinney, Jr. of Allegan, MI.
Preceding her in death were her parents, Raymond and Louetta Kinney, and a sister, Dorothy Snyder
Visitation will take place on Friday, March 11, 2022, from 4 to 7 pm at Frurip-May Funeral Home, 309 W. Michigan St., LaGrange, IN.
Funeral services will be held on Saturday, March 12, 2022, at 11:00 am at the funeral home. Rev. Josh Watts will officiate the services.
Burial will follow at Greenwood Cemetery in LaGrange.
Memorials may be made to Ark Animal Adoption and Rescue, PO Box 95, Howe, IN 46746.