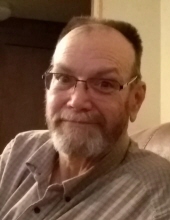 Scottie R. Hill, age 65, of Sturgis, passed away Monday, April 18, 2022 at Upjohn Care and Rehabilitation in Kalamazoo.
He was born June 3, 1956 in Tulsa, OK a son to the late Albert H. and Betty L. (Pollock) Hill.
Scottie moved a lot as a child due to his father's job but has spent most of his adult life in Indiana and Michigan.
On July 15, 1980 at Scottie's childhood home in Fish Lake, Indiana he married Constance M. VanDeVoord.
He had been employed as a truck driver in his early years and most recently was a foreman at a few area factories. He enjoyed fishing, car tinkering, watching Western's on TV, and hanging out with his grandchildren.
Surviving are his wife: Constance of Sturgis; Daughters: Steph (Dale) Schaeffer of Florida, Beatrice "Buffe" Hill, and Erin (Hill) Blair, both of Sturgis; 6 grandchildren: Helena (Seth) Peachey, Caitlin Hill, Brenna Schaeffer, Mia Schaeffer, Evelyn Hill, and Micah Rugg; one great-grandchild: Tilly Peachey; 3 sisters: Pamela Hill, Vicki (Jacob) Jaramillo, and Patti (Daniel) Brockway; several nieces and nephews and great nieces and great nephews.
According to his wishes, cremation has taken place.
A Memorial Service celebrating the life of Scottie R. Hill will be held on June 3, 2022 at Moorepark Community Church, 55701 Wilbur Rd., Three Rivers, MI 49093 with the time to be announced at a later date.
Memorial donations may be directed to the Cure PSP (Progressive Supranuclear Palsy), 1216 Broadway 2nd Floor, New York, NY 10001. Envelopes are available at the Hackman Family Funeral Homes of Sturgis, MI who have been entrusted with the arrangements.