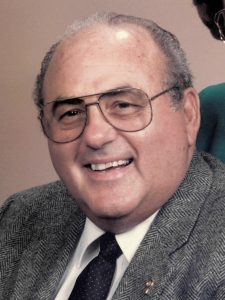 James Eugene "Jim" DalPonte, age 92, of Three Rivers, passed away on Tuesday, May 24, 2022. He was born on November 27, 1929 in Three Rivers, the son of Valentine and Elizabeth (Grazian) DalPonte.
Jim was a 1948 graduate of Three Rivers High School. After graduation he went on to Michigan State University for a two-year business course. He then worked for John Sexton Co. in Detroit for five years. In 1955 he came back to Three Rivers and went to work for the Johnson Corporation where he worked for 32 1/2 years as Regional Sales Manager, working with representatives and covering Wisconsin as an open territory. He thoroughly loved his job and was so thankful to work for such a wonderful company. He loved traveling around the United States and established lasting relationships with colleagues and customers.
Jim served the community in many ways: Rotary Club, Knights of Columbus, Oldest member of the Elks for a number of years, a devout member of Immaculate Conception Church, and honorary member of the American Legion. Even though he was never in the service, he felt honored to blow Taps over 30 years for veterans at burials.
He loved the town of Three Rivers and the people in it very much. He was also very proud and humbled to be selected by the Lions Club as "Citizen of the Year."
He was preceded in death by his parents, Valentine and Elizabeth (Grazian) DalPonte; wonderful wife of 52 years, Jeanette (Careggio) DalPonte; siblings, Rose DalPonte, Mary (George) Houghtaling, Frank (Elaine) DalPonte, Jack (Mary) DalPonte, Pete (Chrystal) DalPonte, Chet (Florence) DalPonte; son, Tom Stutesman; and daughter, Shelle Grant.
Jim leaves to cherish his loving memory four children, Mark (Patty) DalPonte, James Scott (Carmen) DalPonte, Jon (Cindy) DalPonte and Paul (Connie) Stutesman; grandchildren, Nick, Tony, Allison, Chad, Heather, Tripp, and Ava; great-grandchildren, Bryce, Rylan, Devon, Blake, Brayden, Isabella and Audrey; sister-in-law, Paula (Rick) Zemke; many special nieces, nephews and friends.
Visitation will be held Tuesday, May 31, 2022 from 4:00 to 7:00 p.m. with a Rosary at 7:30 p.m. at Hohner Funeral Home, 1004 Arnold St., Three Rivers. Mass of Christian Burial will be held Wednesday, June 1, 2022 at 11:00 a.m. at Immaculate Conception Catholic Church, 645 S. Douglas Ave., Three Rivers. Father R. Mathias will be celebrant.
In lieu of flowers, donations may be directed to Immaculate Conception Parish Education Trust Fund. Envelopes are available at the funeral home.