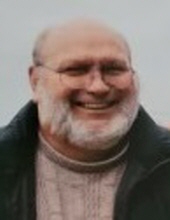 Kenneth Warren Summey, age 73, of White Pigeon, was called home to be with his Lord and Savior Jesus Christ Friday evening, May 6, 2022 at Bronson Methodist Hospital in Kalamazoo.
He was born November 13, 1948 in Sturgis, son of the late Warren and June (Mecklenburg) Summey, Jr.
Ken resided in White Pigeon for the past year coming from Sturgis.
He was a graduate of Centreville High School with the class of 1968 and furthered his education at Grand Rapids Bible and Music School now known as Cornerstone University.
On September 9, 1989 he married Betty Parker at the Mintdale Women's Club in Sturgis.
Ken retired from Americraft Carton in Sturgis following 34 years of dedicated employment as a press operator.
Ken was a very active member of the Fish Lake Bible Church in Sturgis where for 10 years he ran the Super 60s program, served as the missionary chairman, participated in the Men's Bible Study and always found time to volunteer with the children programs.
He enjoyed woodworking, construction, electrical work, bonfires, traveling, camping, collecting knives and walking sticks and canes. Ken had hobbies and involvements but what he truly loved was reading and studying his Bible and time spent with his family.
Ken is survived by his loving wife of 32 years: Betty; three daughters: Virginia (Robert) Adams of Virginia, Joy (Frank) Palmer of Sturgis, and Julie Ann (Lamar) Eicher of White Pigeon; two sons: Ken (Lucy) Summey, Jr. of Sturgis and Jeremy Doty of Warsaw, Indiana; 19 grandchildren; 14 great grandchildren; four brothers: John (Juanita) Summey of Mesick, Bruce (Yvonne) Summey of Sturgis, Roger (Linda) Summey of Blanchard and Barry (Cindy) Summey of Sturgis; two sisters: Marcia Summey of Leonidas and Nina Summey of Sturgis and many nieces and nephews.
He was preceded in death by his parents; daughter: Jennifer Eckman and sister: Bonnie Summey.
In accordance with his wishes cremation has taken place. The family will receive friends from 4:00 to 5:00 P.M. Friday at the Fish Lake Bible Church, 25018 Banker Street Rd. in Sturgis where a memorial service celebrating the life of Ken Summey will immediately follow the visitation at 5:00 P.M. Pastors Tim Brondyke and Tim Stover will officiate. A continued time of fellowship and the sharing of a meal will follow the memorial service in the church fellowship hall. Private burial of the remains will take place at the Fish Lake Bible Church Cemetery at a later date.
The Hackman Family Funeral Homes of Sturgis is entrusted with the arrangements.
The family suggests those wishing to make a memorial donation in Mr. Summey's memory consider World Gospel Missions P.O. Box 948, Marion, IN 46952.
We encourage relatives and friends to share memories and condolences at www.hackmanfamilyfuneralhomes.com.