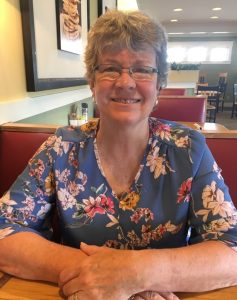 Marilyn Sue Schlimgen, age 73, of Three Rivers, went to be with her Lord early Monday, May 9th, 2022 at her home with her loving husband at her side.  Marilyn was born on June 24th, 1948 in Elkhart, the daughter of the late James W. and Winifred Lucille (Kantz) Goode.
Marilyn has been a life long resident of southwest Michigan.  She graduated from Constantine High School and later received her Bachelor's Degree in Education from Western Michigan.  Following a 20-year career in education with I.S.D. Pathfinder Center, Marilyn enrolled with McCormick Theological Seminary where she received her Masters and began work in ministry.
On December 22, 1978 Marilyn was united in marriage to the love of her life Mr. Richard Schlimgen, whom survives to cherish her loving memory along with two sons, Bradley Mercer, and Anthony "Tony" (Michielle Sweet) Mercer; one brother, Tom (Peggy) Goode; three sisters, Lois (Sumer) Bileydi, Jean Freimund, and Virginia Sharp.  Three beloved grandchildren, Tony Mercer, Madeline (Jeff) Gilbert, and Paige (Cody Martin) Sweet.  Many nieces and nephews.
Marilyn's services will be on  Friday, May 20, 2022.  Visitation will be held from 10:00 a.m. until time of services beginning at 11:00 a.m. at Hohner Funeral Home with Rev. Brenda Deily officiating.  Interment will be held at Riverside Cemetery, Three Rivers.
Memorial donations in Marilyn's memory may be directed to First Presbyterian Church or Habitat for Humanity.  Envelopes will be available at the church or Hohner Funeral Home in care of arrangements.