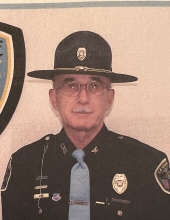 Oscar E. Blowers, age 80, of LaGrange, died Friday, May 13, 2022, at Miller's Merry Manor in LaGrange.
He was born on April 21, 1942, in Fairborn, OH to Ernest Hobert and Stella Elizabeth (Coker) Blowers.
Oscar grew up in the Stroh area of the county and graduated from Salem Center High School.
He worked as a police officer for many years. Starting his career with the LaGrange County Sheriff's Department in 1972. He finished his career with the LaGrange Police Department after working for the town from 1985 until his retirement in 2008.
Oscar liked aviation and was an amateur pilot for many years.
Surviving Oscar is his wife, Debra of LaGrange; a son, Ernest (Kaonna) Blowers of Sturgis; a daughter, Patricia (John) May of Lehigh Acres, FL; 7 grandchildren and 17 great grandchildren.
Preceding Oscar in death are his parents; two sisters, Lucille Begley and Waveln Gose; and two brothers, Roscoe Blowers and Donald Blowers.
A Celebration of Life will be held at the Frurip-May Funeral Home, 309 West Michigan St, LaGrange, on Saturday, May 21, 2022, from 4 to 7p.m.