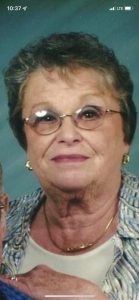 Mary K. Benthin, age 87, of Schoolcraft, died Sunday, June 5, 2022 at Bronson Commons in Mattawan. She was born in Kalamazoo on Nov. 14, 1934 the daughter of Robert and Helen (Cylka) Maher and was a lifetime resident of Southwest Michigan. She graduated from Mendon High School with the class of 1952, and was the long-time Secretary of the Mendon Alumni Association. Mary was married to Max. E. Benthin on Aug. 10, 1957 in Schoolcraft. They continued to reside in Schoolcraft until moving to Fisher Lake in 1985. Mary worked briefly at Borgess Hospital, Molnars Restaurant, and Quality Films. She was the receptionist and medical assistant for Dr. Gibson for 25 years, retiring in 1992. Later she became a representative for Mary Kay Cosmetics.
Mary's purpose in life was caring for others; assisting friends and family when needed. She was a member of the Jolly Doers Club, the American Legion Auxiliary, and the Antique Tractor Clubs in both St. Joseph and Kalamazoo Counties. She enjoyed snowmobile trips up north, vacationing with the Highland and Meyer families, and winters in Florida with the Robertsons.
Mary is survived by three children, Debra (Robert) Osborn of Marcellus, Mike (Teri) Benthin of Kalamazoo, and Schelle (Tracy) McMillan of Schoolcraft; six grandchildren, Beau Osborn, Jennifer Benthin, Joshua (Sadie) Benthin, Brandon (Katie) McMillan, Kylee (Chad) Werner, and Tori Wellington; six great-grandchildren; three sisters in law, Patricia Maher of Three Rivers, Vicki Maher of Ludington, and Kathy Maher of Martin; and many nieces and nephews. She was preceded in death by her parents; her husband, Max in 2007; two infant sisters, Pauline and Barbara Ann; and by her three brothers, Bill, Jim, and Bobby Maher.
The family will receive friends from 5 to 7 pm Thursday at the Eickhoff Funeral Home in Mendon. Funeral services will be at 11 am Friday, June 10, 2022 at the funeral home with Rev. David Nellist, Pastor of the Dearborn First United Methodist Church officiating. Burial will follow in Schoolcraft Cemetery. It is suggested that memorial contributions be directed to either Centrica Care Navigators, or to Bronson Commons. Memories and condolences may be shared with the family at www.eickhofffuneralhome.com.