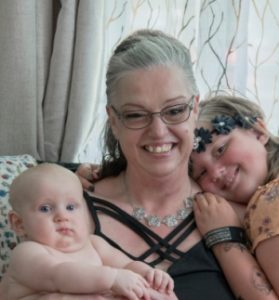 Gretcheina Lin Myers, age 52, of Colon, passed away Sunday, October 2, 2022 at her home.
She was born July 25, 1970 in Coldwater, daughter of Steven and Georgia (Frye) Dobberteen.
Gretcheina's early life was lived in Burr Oak where she was a graduate of Burr Oak High School with the class of 1988. Following graduation, she enlisted in the U.S. Navy, serving for two years. While stationed in Hawaii, she met her husband, Toby Myers, and the couple married October 18, 1989 in Honolulu, Hawaii.
Gretcheina was baptized at the First Baptist Church in Sturgis and a loving and dedicated wife, mother, grandmother and homemaker.
She lived throughout the world including Hawaii, Virginia Beach, Virginia and Iceland.
She will always be remembered for her kind and giving heart. She was happiest when she was helping others.
Gretcheina is survived by her husband of nearly 33 years: Toby; her children: Stephanie Phillips of Camden, Rebecca (Ben) Walters of Vicksburg and Jacob Myers of Hanover-Horton; two grandchildren: Rowan Walters and Annabelle Sutton; her mother: Georgia Dobberteen; brothers: Steven Scott Dobberteen, Jr., and Melvin "Buddy" (Tiara) Dobberteen, and several nieces and nephews.
She was preceded in death by her father: Steven and sister: Ann Stidham and two nieces and a nephew.
In accordance with her wishes cremation has taken place. No services are planned at this time.
The Hackman Family Funeral Homes of Sturgis is entrusted with the arrangements.
Memorial donations would be appreciated to the Hackman Family Funeral Homes, P.O. Box 9. Sturgis, MI 49091 to help with expenses.
We encourage relatives and friends to share memories and condolences at www.hackmanfamilyfuneralhomes.com.