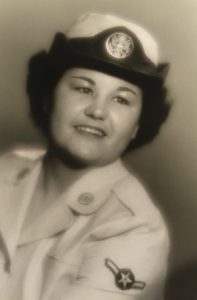 Mary Lou Happel, age 93, of Leonidas, went to be with the Lord on Wednesday, Nov. 30, 2022 at the Birches in Leonidas where she had resided the past 6 ½ years. She was born in Mendon on August 7, 1929 the daughter of Allen and Cora (Thomas) Carlisle. She graduated from Watervliet High School in 1949 and worked briefly for Allis Chalmers in St. Joseph before joining the U.S. Air Force in 1952, serving as a nurse until 1955. She returned to Mendon where she worked at the Haas Corporation in Mendon and Denton Mills in Centreville and then the Three Rivers Hospital. She was married to Charles Happel on October 18, 1958 in Mendon. Charlie died on February 27, 2000.
Mary attended the Bridges Community Church. She enjoyed drinking coffee and visiting with friends in downtown Mendon. She enjoyed listened to baseball on the radio and fishing on the St. Joe River. She especially looked forward to spending time with family and celebrating special occasions. Mary was selected to take part in an honor flight to Washington D.C. in April of 2018.
Mary is survived by daughter, Lori (Clint) Zehr of Centreville; son, Jim (Cheryl) Happel of Paw Paw; four grandchildren, Amy (Rob) Wilson, Beth (Matthew) Watts, Rhiannon Zehr, and Jeremiah (Kori) Zehr; twelve great grandchildren; seven great-great-grandchildren. She was preceded in death by her parents; her husband, Charlie; and nine brothers and sisters.
The family will receive friends from 4 to 7 pm on Sunday, December 4, 2022 at the Eickhoff Funeral Home in Mendon. Funeral services will be at 11 am on Monday, December 5, 2022 at the funeral home with Clint and Jeremiah Zehr officiating. Military interment will take place in Mendon Cemetery. It is suggested that memorial contributions be directed to Birch Adult Foster Care, 30895 King Rd., Leonidas, MI 49066. Memories and condolences may be shared at www.eickhofffuneralhome.com