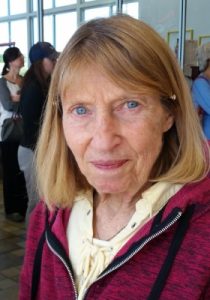 Lois Kathryn Cary (Garber), age 82, of East Lansing, and a former resident of Sturgis, passed away Friday, December 23, 2022 at Sparrow Hospital in Lansing.
She was born in Manhattan, New York, on June 6, 1940, the daughter of the late Dr. Kathryn Small Garber and Dr. Clarence Zent Garber.
Lois' young life began in an apartment overlooking the Hudson River. She had one older brother, John. When she was four years old, the family moved to Teaneck, New Jersey. Growing up in the New York Metropolitan area, the family was able to take advantage of many museums and cultural activities. The family also enjoyed boating on the Hudson River and lakes in northern New Jersey, as well as summertime camping in Canada. She was active in Girl Scouts and involved in her church youth group. Lois graduated from Teaneck High School with the class of 1958.
Following graduation, Lois attended Hope College in Holland, Michigan. While in college, she worked in the subscription department at Parents Magazine, and worked summers at the YMCA of the Rockies in Estes Park, Colorado. Lois graduated from Hope College in 1962 with a Bachelor's Degree in Elementary Education, and began her teaching career with the Spring Lake Public Schools. In the fall of 1966, she married Alan Cary in Spring Lake, Michigan. Lois and Alan both taught in and retired from the Grand Haven Public Schools. Upon retirement, they moved to their farm near Sturgis. Lois was an active member of the Presbyterian Church, first in Spring Lake, and later in Sturgis. She sang in the choir of both churches. Lois also volunteered with the Preschool and Vacation Bible School at the First Presbyterian Church of Sturgis.
Lois had a true love of the outdoors and enjoyed camping and hiking, especially in Colorado with her family. She loved spending time with children. She will be remembered for the many wild animals she nurtured back to health and eventually released into the wild.
She is survived by her three children: Susan (David) Hoffer, Nancy (Kurt) Zachary, and Jonathan (Jennie) Cary. She is also survived by her brother, John Z. Garber, six grandchildren, and several nieces and nephews.
Lois was preceded in death by her parents and her husband.
The family will receive friends from 5:00 to 7:00 Tuesday, Jan. 3rd at the Rosenberg Chapel of Hackman Family Funeral Homes, 807 E. Chicago Rd. in Sturgis. A memorial service celebrating the life of Lois Cary will be held at 11:00 Wednesday, Jan. 4th at the First Presbyterian Church, 1320 S. Lakeview Ave. in Sturgis. The Rev. Dr. David Weber will officiate. Private placement of the ashes will take place in the First Presbyterian Columbarium.
The family suggests those wishing to make a memorial donation in Mrs. Cary's memory consider the Presbyterian Women's Association, 1320 S. Lakeview Ave., Sturgis, MI 49091 or the Alzheimer's Association 200 Turwill Lane Suite 6, Kalamazoo, MI 49006.
We encourage relatives and friends to share memories and condolences at www.hackmanfamilyfuneralhomes.com.