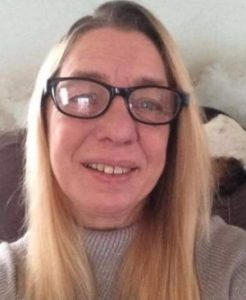 Cynthia Marie Huber, age 58, of Sturgis, passed away Wednesday morning, January 25, 2023 at her home following a hard fought battle with cancer.
She was born April 20, 1964 in Hicksville, Ohio daughter of the late James Paul and Jacklyn (Bice) Krontz.
Cyndi resided in Sturgis since 1983 coming from Bronson where she was a graduate of Bronson High School with the class of 1983.
On October 20, 1984 she married Charles "Peppy" Huber in Sturgis.
Most of Cyndi's working life was as a prep cook. She had been employed by Wing's Etc., Mancino's Pizza, and the Lakeside Loft, all in Sturgis and Island Hills Grill in Centreville.
She enjoyed gardening, cooking, following NASCAR, and hunting. She loved time in the outdoors especially winter time and snow and the annual Huber reunion held at Camp Fort Hill.
She is survived by her loving and dedicated husband of 38 years: Peppy; two sons: Michael Huber and Zachary (Kari Voight) Huber both of Sturgis; granddaughter: Ari Jade Huber; two sisters: Janet Miller of Three Rivers and Patricia Krontz of Bronson; five brothers: James Krontz, Jr. of Marshall, Jay Krontz of Three Rivers, James Isfalt of Sturgis, Scott Krontz and Wade Krontz both of Edgerton, Ohio and many nieces and nephews.
In accordance with her wishes cremation has taken place. A memorial service celebrating the life of Cynthia Huber will be held at 5:00 on Wednesday, February 1st at the Hackman Chapel of Hackman Family Funeral Homes, 114 S. Nottawa St. in Sturgis. Pastor Steve Clark of the New Hope Christian Fellowship Church in Waterford will officiate.
The family suggests those wishing to make a memorial donation in Cyndi's memory consider ProMedica Hospice, 8075 Creekside Dr., Portage, MI 49024.
We encourage relatives and friends to share memories and condolences at www.hackmanfamilyfuneralhomes.com.