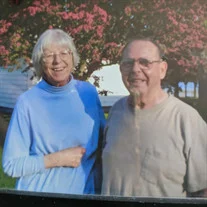 Paulette Szadaly, age 90, of Decatur, passed away Friday, January 13, 2023 at home.
She was born in Chicago on January 25, 1932 the daughter of Paul Stogis and Frances Barbara Kvadras.
On June 19, 1956, in South Bend, she married Alex George Szadaly who preceded her in death on July 24, 2022.
Paulette was a Veterinarian, working for many years at MSU in Lansing. Paulette and George worked together for many years and he was a Korean War vet.
Paulette was preceded in death by her husband Alex "George"; parents; Paul and Frances; sister; Francine Larson.
Cremation has taken place. Memorial donations may be directed to the Charity of Donor's choice. Online condolences may be left at www.materralstonfuneralhome.com.