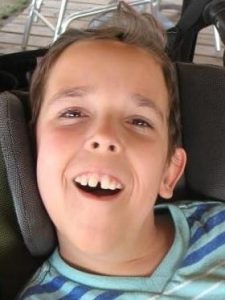 Tyler Alexander Townsend, age 22, of Three Rivers, passed away Sunday, January 22, 2023 at Bronson Methodist Hospital.
He was born November 7, 2000 in Three Rivers, the son of Kirk and Norma (Solis) Townsend.
Tyler attended Pathfinder Educational Center in Centreville, where his smile brightened up the classroom. He was loved by his family, friends, and caregivers.
Remaining to cherish his memory are his parents, Kirk and Norma Townsend; grandmother, Herlinda Solis; uncles, Joe (Theresa) Solis, Oscar (Keith) Solis, and Mark (Pat) Townsend; and aunts, Gloria (Ernest "Bill") Parshall, Wendy (Chris) Pangle, and Alice Easterday as well as many cousins and second cousins.
Tyler was preceded in death by three grandparents and by one aunt.
A memorial service will be held Saturday, February 4, 2023 at 3:00 at Hohner Funeral Home, 1004 Arnold St., Three Rivers, with Pastor Carl Litchfield officiating.
Donations in Tyler's memory may be directed to Pathfinder Educational Center or to St. Jude Children's Research Hospital. Envelopes are available at the funeral home.