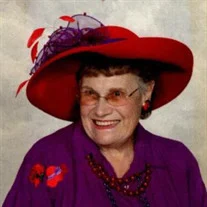 Betty Jean Whetstone, age 95, of Union, Michigan passed away Tuesday, May 23, 2023 in Burr Oak.
She was born in Sturgis on April 12, 1928 the daughter of Joseph and Levah (Fronhafer) Nelson. On August 22, 1947, in South Bend, she married Theodore R. Whetstone who preceded her in death.
Betty was a Machine Operator, working for many years at Valley Machine in Elkhart.
Betty loved baking, knitting and crocheting, she also enjoyed camping and fishing. She was a member of the Red Hat Society and liked butterflies.
Betty is survived by her daughter; Peggy Enboden of Constantine, sons; Michael (Sharon) Whetstone of Constantine, Teddy (Barbara) Whetstone of Elkhart; seven grandchildren; and several great-grandchildren.
Betty was preceded in death by her husband Theodore, son Joseph, son-in-law George Enboden; great-grandson; Robert, parents; Joseph and Levah Nelson; and sisters Waunetta Plumb and Wanda Penfield.
The family will receive friends from 12:00 to 2:00 on Friday, May 26, 2023 at the Mater-Ralston Funeral Home, 52780 M-40 North, Marcellus. Funeral services will be held at 2:00 Friday, May 26, 2023. Burial will follow at Marcellus Bly Cemetery. Memorials may be directed to Alzheimer's Association, alz.org. Online condolences may be left at www.materralstonfuneralhome.com.