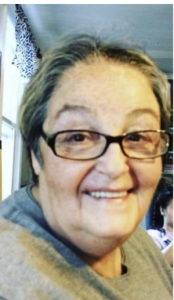 Nadine Ann Brown, age 68, of Constantine passed away Tuesday, May 23, 2023 in her home where her loving family had been caring for her.
She was born September 21, 1955 in Grand Rapids, the daughter of Gary and Bettie (Welburn) Brown.
Nadine was a feisty, creative woman who loved arts and crafts, elephants, baking, her children, family, friends and most of all her grandchildren and great grandchildren. She was known for spoiling her grandchildren with their favorite sweets, movie nights, and her ability to ensure they were never to blame for anything. She would fight fiercely for those she loved and comfort them every time they needed her.
Remaining to cherish her memory are her son James (Kelly) Dentler, and her daughter Hope Buck. Her sister Dianna (Mike) Johnson. Her grandchildren Tara (Lou) Love, Paige Felch, Destinee, Mackenzie, Arionna, Brockton and Railee Buck, Devon Dentler, Marin Dentler, Camden Dentler, six great grandchildren and a host of nieces, nephews, cousins and friends.
She was preceded in death by her son Gary Dentler, grandson Tyler Hartzell, brother Dale Brown and her loving parents Bettie (James) Hull and Gary Brown.
A celebration of life luncheon to honor her will be held on Saturday, June 3, 2023 at 12:00 at the Fraternal Order of Eagles at 715 E. Hoffman St. Three Rivers, MI 49093.