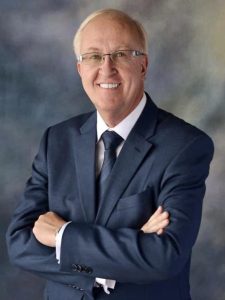 Murray Zane (Bud) Malinoski Jr., The Family Man Extraordinaire, and a Super Dentist of Amazing Skill, a gregarious guy from Three Rivers, passed away on Monday, September 25, 2023 at the age of 72 with his family by his side.
His passing was timely as he chose to Graduate this life on his beloved wife's 60th birthday, and will forever link them even tighter than most couples.
Bud is survived by his smokin' hot wife Pam, his favorite son Ryan (Lisa), his favorite daughter Holly (Travis Trapp) and his adorable grandson Maverick Zane Trapp. He is also survived by brothers M. Charles Malinoski and Merl (Debbie) Malinoski, Parents-in-love John & Verna Kruse, sisters-in-love Lynn Page (Randy) and Julie Kruse, and many nieces and nephews. He also leaves to cherish his piano playing, storytelling, and boat driving memory to a very large, loud and fun-loving extended family who will miss their summer gatherings on Corey Lake.
He was preceded in death by many, including his parents Murray Zane and Louise (VanderVeen) Malinoski Sr.
Bud was a talented dentist and if you didn't believe it, he would tell you so himself. He had a gift of gab just like all dentists do and could decipher any language while his hand was in your mouth. He loved wines and fine dining, traveling, his Corvette, any kind of ice cream, MSU Spartans, the family cats, all of his patients who now see his daughter & SIL, his family, and Jesus, not necessarily in that order. Once he reached the Pearly Gates, he said he had a list of questions needing answers from the Heavenly Hosts.
Bud earned his bachelor of science in mathematics and physics from Grand Valley State University in 1973, his master of arts from Michigan State University in 1980, and his Doctor of Dental Surgery from the University of Detroit in 1983, en route to private practice in general dentistry in Three Rivers from 1983-2022. He was proud to be a member of the Kalamazoo Valley District Dental Society, the Michigan Dental Association, the American Dental Association, a Michigan Dental Association (MDA) Region XII Trustee, and his Fellowships in the Academy of General Dentistry, the American College of Dentists, and the International College of Dentists. He received "People's Choice Dentist" in Three Rivers Commercial-News balloting multiple times since 1993.
His significant community involvement included Glen Oaks Community College Foundation trustee, Three Rivers Chamber of Commerce, Three Rivers Community Players, Three Rivers Rotary Club, Three Rivers Lions Club, Habitat for Humanity of St. Joseph County treasurer, Three Rivers Health Advisory Board, and Three Rivers Health Foundation.
A Visitation will be held on Friday, September 29, 2023, from 4:00 to 7:00 p.m. at Hohner Funeral Home in Three Rivers, and the Funeral celebrating his magnificent life will be held Saturday, September 30, 2023 at 11:00 a.m. at Riverside Church also in Three Rivers. He will be laid to rest at Riverside Cemetery.
This is a free event honoring a spectacular human being. Following the service, the family will host an Ice Cream Social, but in the event you cannot attend, we would appreciate you doing something like eating ice cream or drinking wine to celebrate and honor Bud's life.
In lieu of flowers, you may send a donation to the ALS Association Michigan Chapter, The Susan Mast ALS Foundation, Animal Rescue Fund of St. Joseph County or you may pray the MSU Spartans have winning football and basketball seasons. Any or all of those would make him happy.