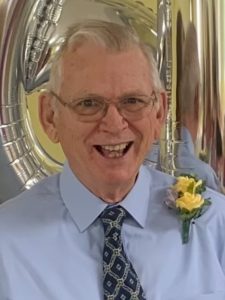 Allen Lewis Wittenberg, age 79, of Three Rivers, passed away Friday, January 21, 2022 at his home.
He was born April 16, 1942 in Constantine, the son of Lewis and Lorene Marie (Bruecks) Wittenberg.
Allen graduated from Constantine High School with the Class of 1960. He was a dedicated employee at Michigan Power Company for nearly 30 years, and also drove truck in later years.
On June 17, 1961 he married Susan Green. The couple enjoyed visiting all 50 state capitals, and traveling to Israel in 1988. They were very involved at Agape Family Church.
Allen loved basketball, golfing and all sports. He will be remembered as a man of integrity.
Remaining to cherish his memory are his wife of more than 60 years, Susan Wittenberg; one daughter, Penny (Steven) Foetisch of South Range, Mich.; three sons, Thomas (Matilde) of Lindale, Texas, Andrew (Debi) of Three Rivers and John (Cheryl) of Marcellus; 12 grandchildren; eight step-grandchildren; four great-grandchildren; six step-great-grandchildren; brother, Roger (Marsha) Wittenberg of Constantine; sister, Vera Wittenberg of Nashville, Tenn.
Allen was preceded in death by his parents.
Visitation will be held Tuesday, January 25, 2022 from 5:00 to 7:00 p.m. at Hohner Funeral Home, 1004 Arnold St., Three Rivers. Services will be held Wednesday, January 26, 2022 at 11:00 a.m. at the funeral home with Pastor Leon Troyer officiating.
Donations in Allen's memory may be made to Blossoming Rose, Cedar Springs, MI, the official curator of Biblical Tamar Park, Israel, www.BlossomingRose.org. Envelopes are available at the funeral home.